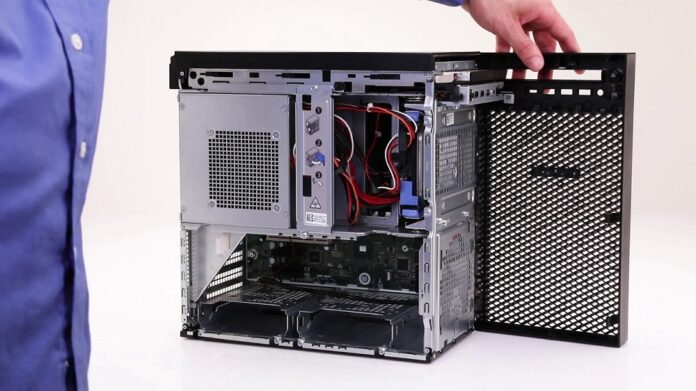 The need for a competent, efficient, and affordable server in the present times is very essential. All the businesses have to fund their route to the online platforms and the availability of these services over the online platforms has been major reform in the industrial sector. The Dell PowerEdge T40 is one of the most popular and frequently sought-after solutions when it comes to having a good server for the company. 
The Popularity Of The Dell Poweredge T40
These servers have been manufactured by cutting down some of the features of PowerEdge series servers which makes it a low-cost server and extremely affordable. One of the most important reasons why these servers are an excellent choice is the value that they add concerning the price. The outstanding host of features, mind-blowing tradeoffs, and so on makes these servers optimal for small to medium scale businesses.
Build Of The Dell Poweredge T40
The Dell PowerEdge T40 is made upon a 20.4L chassis and this chassis happens to be 25% smaller than the T30. The T30 was the previous generation of the Dell EMC PowerEdge T40 and it was built on a chassis of 27.4L in size. The chassis of T40 is thought to hold a resemblance to the one used in Dell Precision 3630. 
The front end of the server is based on a workstation platform and it is equipped with features that make daily operation very easy. It is equipped with four USB ports which include Type-C ports and supports USB 3.0. It also has a dedicated front audio jack and it comes with an optical drive bay that utilizes a DVD RW drive. 
On the other hand, the rear side of the system has also got a standard workstation layout approach. There are four USB 3 ports here as well along with two USB 2 ports. It also gets a serial console and PS, 2 mouse, and keyboard ports. It also comes equipped with a single 1GbE port with an Intel i219 controller and two DisplayPort outputs which can drive dual 4K displays fluently. 
Major Benefits Of Using Dell Poweredge T40
The major reason why a lot of businesses choose to go for Dell PowerEdge T40is the reliability and support it offers in all instances. The servers along with the constant assistance of the EMC support team hold the potential to simplify your life to a great extent and take care of all your business challenges. Controlling all your data and accessing data on-site becomes pretty simple. Moreover, managing the expenses becomes a lot easier as, with the help of these servers, unrecognized public processing as well as unnecessary storage costs can be easily avoided.